Available in north america
EasyPour™ Concrete Forming Voids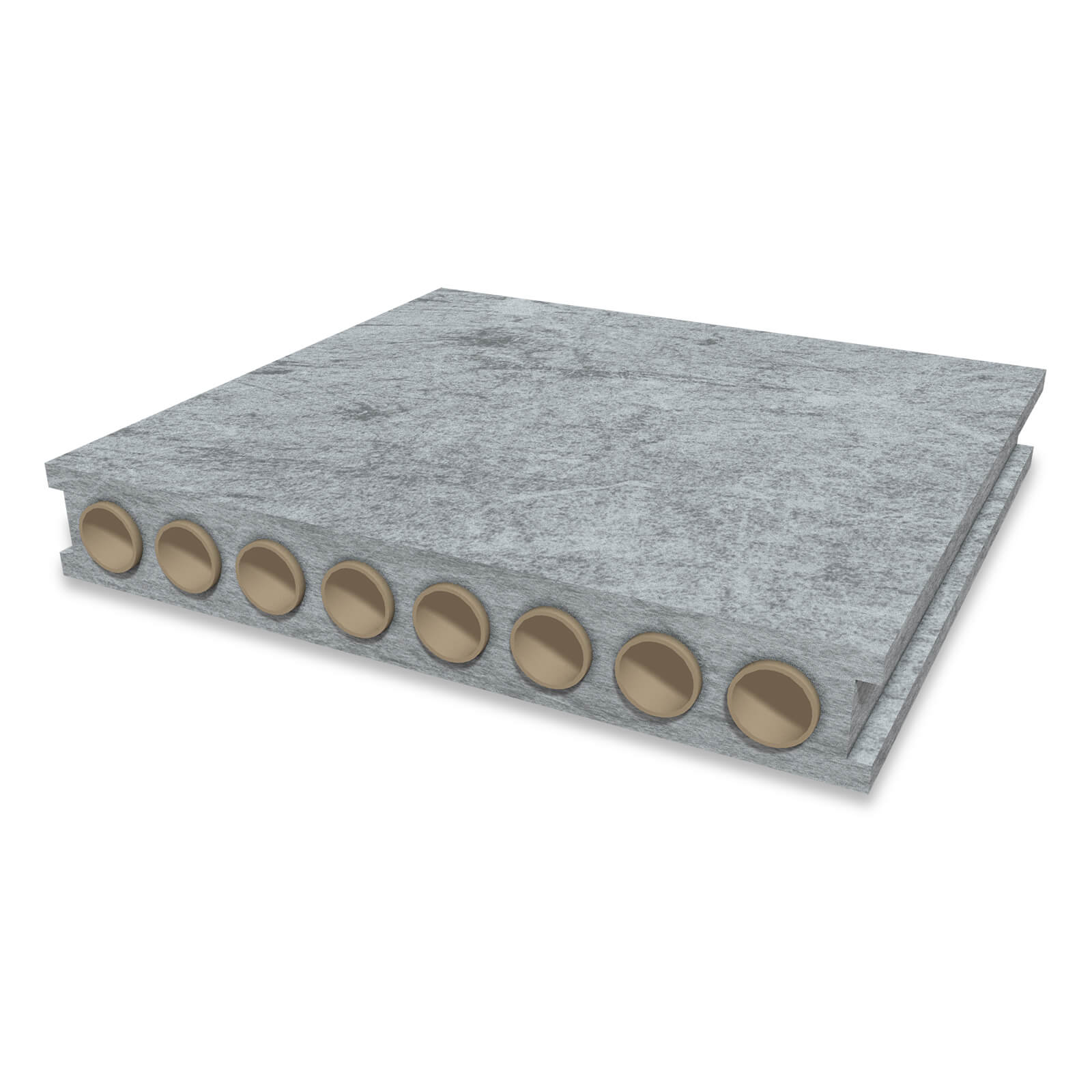 An economical solution for precast or cast-in-place concrete
Corrugated materials can play several roles in concrete construction, including providing reinforcement, serving as formwork, and improving insulation.
Concrete forming voids are empty spaces intentionally created in concrete structures to reduce the final structure's weight, accommodate various utilities, or make architectural features.
Sometimes, there is an artistic element in the outcomes of projects using forming voids. Concrete forming voids can create unique and interesting architectural features, such as alcoves, arches, or openings. These features can add aesthetic appeal and visual interest to the structure.
Concrete forming voids can also create space for utilities, such as electrical wiring, plumbing, or ventilation ducts. The result makes it easier to install and maintain these systems without compromising the strength or integrity of the structure.
WeatherShield™ Technology
WeatherShield™ moisture resistant technology makes EasyPour™ Forming Voids a more structurally sound tube when subjected to moisture than a tube made with non-moisture adhesive.
Readily placed
It can be placed manually or by crane for larger diameters and longer lengths. Rebar void saddles are recommended to hold void form in position.
Pouring Methods
Concrete should be placed with an elephant truck or similar means for very long forming voids - not dropped on void tubes. Concrete can be vibrated extensively without damaging EasyPour™ Forming Voids.
EasyPour™ Forming Voids Features
EasyPour™ Concrete Forming Voids provide an opportunity for cost savings due to faster pouring and forming of larger areas and an overall reduction in the amount of concrete and steel needed.
Greif's concrete forming tubes work well for precast or cast-in-place concrete—an economical solution for floors, roof slabs, bridges, decks, beams, and pier construction.

Customizable for you and your needs. Available in a full range of standard and custom sizes.

End closures and Custom Connectors Available.
Greif has a strict policy against spamming and the company's representatives will not reply to unsolicited emails.
The processing of your personal data is done in accordance with the Greif Website Privacy Policy
Data, dimensions, and information provided about products and services on this website are considered nominal values for general-purpose use in evaluating products and services for customers' specific applications. These are not considered manufacturing specifications.
WE HEREBY DISCLAIM AND EXCLUDE ANY EXPRESS OR IMPLIED WARRANTIES, INCLUDING WITHOUT LIMITATION THE IMPLIED WARRANTIES OF MERCHANTABILITY AND FITNESS FOR A PARTICULAR PURPOSE.
Greif Ethics Hotline
To report concerns about possible ethics or compliance violations on a confidential and anonymous basis please visit www.greif.ethicspoint.com or, in North America, you may place a toll-free call to 866-834-1825. Outside North America, where available, follow the directions at www.greif.ethicspoint.com under "Report a Message."