Available In North America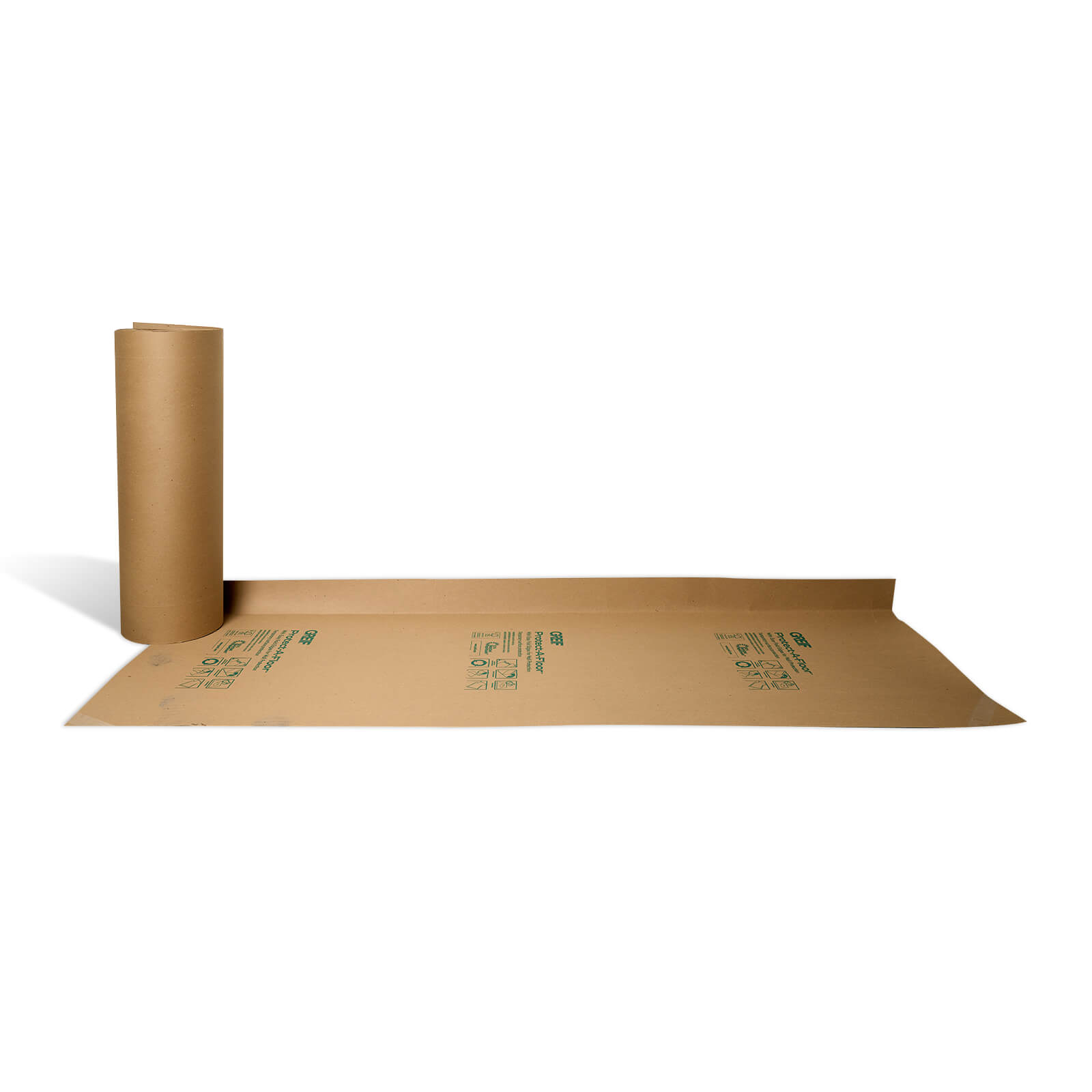 Temporary surface protection with easy fold edges for wall protection.
Protect-A-Floor™ from Greif is a 100% recycled paperboard floor protection that comes on a roll.
Strength and durability where it is needed most in providing temporary surface protection guards against water, paint, mud, and more.
Wall Protection
Each roll is scored 4" from the edge. Fold the edge up at the scoreline and place it against a wall or surface for optimal protection.
Fluid Resistant
Fluid resistant technology means quality protection against spills.
Customization
Private label printing and size customization make Protect-A-Floor™ potentially unique for every customer.
Protect-A-Floor™ Size and Packaging

Available in 38" x 100' rolls.
Protect-A-Floor™ protection rolls are individually packaged for maximum protection from the elements throughout a job site's lifecycle.
No "oops" in this relationship
Protecting floors from the "oops" that can happen in the real world is essential for a beautiful future or preserved past. Many great projects come with the risk of spills or oversprays that can leave a location owner with unintended frowns.
Thankfully, Protect-A-Floor is there. So is Greif.
For starters, we work together. Greif and the colleagues who make the company stand out as leaders in paper floor protection work with every customer to deliver the best solution for their needs. A collaborative process finds the best outcomes for you, your customers, and the product's eventual end-users.
Did you know that Greif established an updated mission statement to be the best-performing customer service company in the world? What that means for you is whether you are selecting from the extensive packaging protection offerings or looking for anything else in the Greif catalog, it is the duty of all of us to make sure your needs are met, and your expectations are exceeded. It's the Greif way.
Greif has a strict policy against spamming and the company's representatives will not reply to unsolicited emails.
The processing of your personal data is done in accordance with the Greif Website Privacy Policy
Data, dimensions, and information provided about products and services on this website are considered nominal values for general-purpose use in evaluating products and services for customers' specific applications. These are not considered manufacturing specifications.
WE HEREBY DISCLAIM AND EXCLUDE ANY EXPRESS OR IMPLIED WARRANTIES, INCLUDING WITHOUT LIMITATION THE IMPLIED WARRANTIES OF MERCHANTABILITY AND FITNESS FOR A PARTICULAR PURPOSE.
Greif Ethics Hotline
To report concerns about possible ethics or compliance violations on a confidential and anonymous basis please visit www.greif.ethicspoint.com or, in North America, you may place a toll-free call to 866-834-1825. Outside North America, where available, follow the directions at www.greif.ethicspoint.com under "Report a Message."